Auger Kits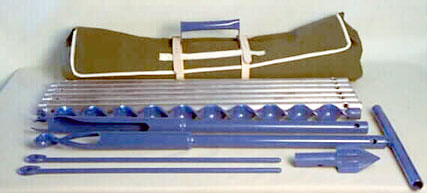 Item Code KIT
Several sample kits are listed and these can be varied to suit your individual requirements.
A kit consists of a full set of equipment with at least 6 extension rods and a carry bag for which a 7.5% discount to the sum of the individual prices is given.
Options: Unlimited variations, also with casing and sludgers etc.
HAND AUGER KITS

ID CODE

DESCRIPTION

Kgs

THREAD

KIT50 AC

50mm sand & soil augers, T-handle, 6x
alumin rods, Tommy Bars & carry
bag

12.5

coarse

KIT62 SC

62mm soil & spiral augers, Star drills,
6xsteel rods, T-Handle, Tommy Bars & 1.0M
canvas carry bag.

23.0

coarse

We can customise kits to suit your individual requirements